---
Heavenly gourmet pleasures
Funkturm Restaurant and observation deck remain closed
The radio tower restaurant and the viewing platform will remain closed until next year due to the current situation and existing conditions in connection with Covid-19. Unfortunately, the structural conditions do not allow safe operation (current distance and hygiene rules). We regret the pause for visitors to the radio tower and look forward to a reopening.
We will announce the reopening of the radio tower restaurant at https://www.capital-catering.de/en/Portfolio/Funkturm-Restaurant/OpeningHours.
Of course, vouchers that have already been issued remain valid.
We thank you for your understanding.
Sincerely yours
Your radio tower team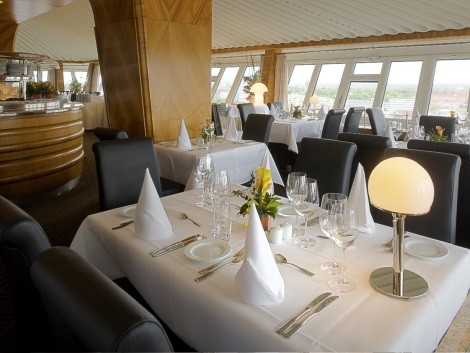 The Funkturm-Restaurant, furnished in the original style of the 20s, welcomes its visitors with box seats at a dizzying height. Our team will do all they can to draw your attention from the sensational view of Berlin that this location offers back to your plate. Our individual service and sophisticated food are guaranteed to do just that. Come visit us up here and enjoy with all your senses.
Contact
Our staff will be happy to take your reservations
phone +49 (0)30 3038-2900
fax +49 (0)30 3038-1997
email funkturm@capital-catering.de
Our Service
Our offer:
exclusive events
116 seats
à la carte restaurant
individual catering offers
Gourmet pleasures à la carte